---
"Communities of Practice Towards Social Change", a book by the European Cultural Foundation
Publicado el 19/03/2018 - Ideacamp
Between 2014 and 2017 as Platoniq / Goteo we have been part of the C
onnected Action for the Commons network
initiated by the European Cultural Foundation and we are proud of the work we have done as a team and collectively in collaboration with
the 6 hubs
that make up the network. One of our greatest satisfactions in this work has been co-organising and hosting
the 2017 Idea Camp "Moving communities"
in Madrid.
In 2018, upon conclusion of the intense triennium of collaboration, the ECF has published a
book
that retraces the learning journey the CaC network has undertaken. Reflecting back on the work done collectively, ECF has gathered insights and reflections on the multiple directions and on the different layers the Connected Action for the Commons programme has explored to foster a "
strong and interconnected European civil society (by) catalysing local change and social innovation
."
It is incredibly interesting for us to look back at this collective endeavour and we feel that being part of such community has enriched us as an organisation on a number of levels. As Platoniq / Goteo co-founder Olivier Schulbaum puts it, "
As well as scaling up some of the methodologies that we tested before, we also learned something in relation to the theme of the 'Moving Communities' Idea Camp that we hosted. We had to work more in urgent terms, because of the pressuring issues related to migration, displacement, the threat of radical politics, etc. This very much relates to the idea of resistance (...). We learned that the methodologies to build ideas also serve to answer urgent or burning issues and they can be used outside of the context of an Idea Camp. You don't need so much production or money to enhance political and social responsibility. Using this type of methodology works; it can be applied very quickly, very informally, on the streets.
"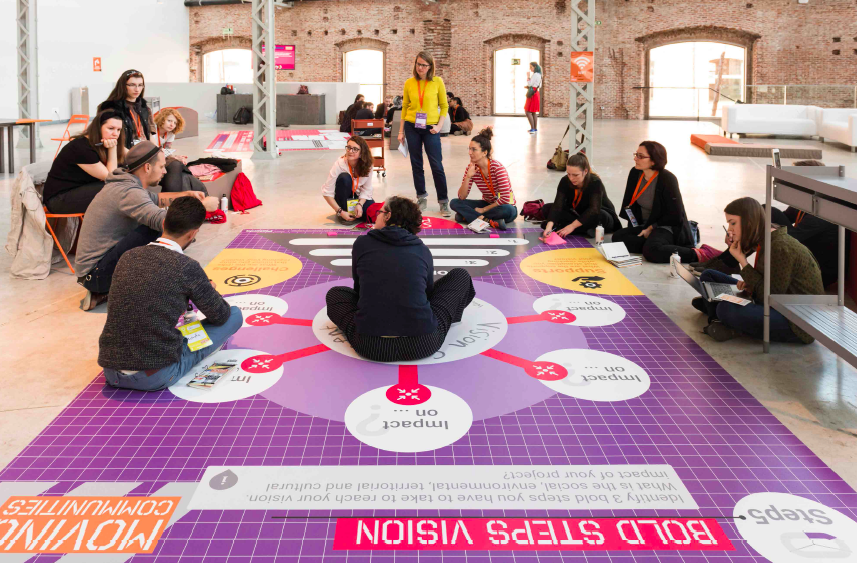 The
book
provides background on the inception of the Idea Camp journey, its early and later stages, its conclusion and possible future development. The publication "offers an insight into the Idea Camp as a concept as well as the communities it has brought together." Through interviews of ECF staff, hub partners, former grantees, thinkers and stories of inspirational experiences, the publication touches upon themes that are key for thinking and working on social change and democratic renewal through cultural practice in Europe and neighboring countries in 2018:
-
What is a community
? What makes belonging?
-
public space and non-spaces
. How does one transform a space into a place? How to sustain these places? How do these space become home? What does the notion of home mean to us?
- creating '
safe spaces
' in which communities can rethink ways of living together;
-
human dignity
as central point of political action;
-
the Commons
as a collective "taking care", as collectively defining rules and as sustainability;
- on being f
uture-focused
: asking ourselves how to live together "While looking back to the past can provide us with necessary learnings, the task ahead also requires us to harness our imagination, and seed a different scenario for the future."
- what's the
role of change agents
in their community? Can we really talk about "neutrality"?
-
grassroots initiatives
as heart of social change;
- the
sustainability
of the communit(ies), how financial sustainability is key and how important is to support risky stages of the lifecycle of an innovative idea;
- the
contamination
of sectors, disciples, experiences and areas of intervention as central to the co-design of change-making projects;
-
institutional responsibility
and the negotiation of everyday boundaries;
-
learning by doing
as key notion in communities of change.
As ECF's Lore Gablier says in the introduction of the book, "
every day, new initiatives are being born that bring about a different narrative: a narrative in which democracy is not a mere idea but a social dynamic, an embodied practice that stirs the very movement of society. In this flow that touches upon both public and private life, the role of culture is crucial. It provides us with the means, the imagination and the desire to affect the path.
".
As we keep intertwining all the above questions with our work in Platoniq and Goteo, we salute the collective endeavour carried forward by such an inspiring community of practice and are impatient to see future developments of the cross-pollination we have all initiated together.