---
Europeana Fashion Co-creation workshop at Rijksmuseum
On April 20th, in the fantastic venue of the Rijksmuseum in Amsterdam, Europeana Fashion is organising a co-creation workshop in collaboration with the Europeana Foundation, Platoniq and Rijksmuseum. This will take place right before the two-day international fashion conference "Fashion in museums: past, present & future", that will also take place in Amsterdam.

We're looking for innovative and adventurous designers, coders, cultural managers, artists, creatives, IT and marketing experts to take up the challenge of engaging with fashion institutions both GLAMs - (Galleries, Libraries, Archives and Museums) and creative industries in the use and appreciation of fashion heritage online, co-creating new prototypes out of thrilling vintage collections.

After investing a great deal of time and effort in aggregating and publishing digital fashion objects online, now it is time to promote and facilitate concrete ideas on how to exploit and add value to this content and not only from a commercial point of view. We think that focusing on developing and prototyping new ideas, as well as achieving validation from a business modeling perspective is an "added value" that we can offer to Europeana Fashion's fellow GLAM institutions.

That's why the Europeana Fashion association has decided to invite fashion GLAMs, brand archives, creative industry professionals, developers, UX designers and users, in order to share, evaluate and refine ideas and concepts. The result of this process will provide fresh perspectives and useful inspiration for the use and appreciationof digital fashion content. The most promising ideas will be then prototyped and moved on to the next development levels.

Register now!

More information on the "Co-creation made agile" methodology developed by Platoniq can be found here.

Find an outline of the workshop roadmap here: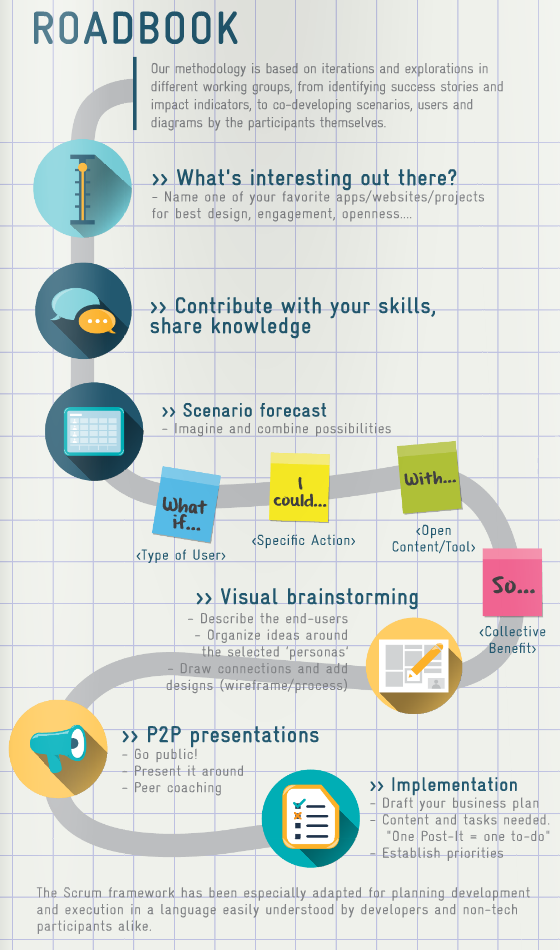 What's the aim of a co-creation workshop? to promote the increased re-use of cultural heritage resources by European creative industries and independent creators. This methodology leads to a close working dynamic with the target groups, developers, potential users of their resulting products and content-providing institutions, including those responsible for the planning and facilitation of co-creation workshops held to develop and create new applications and digital products. All together, it showcases the potential of digital content when reused for new products and services. Different techniques and principles derive from creative thought, rapid prototyping and agile development applied in the Europeana Fashion Universe.

Co-creation and co-design in Fashion Heritage must involve participants directly and, along with complementary (or even divergent) points of view, will ideally foster empathy and positive, creative activity. This is a fundamental feature of the whole process. Any co-creative processes developed in museums can be open to the participation of experts and amateurs who are collaboratively responsible for the final work. In this context, where visitors increasingly expect intuitive and well-designed experiences, services and products at the exhibitions, such trends represent an important opportunity to introduce user-centered design methodologies in the field of Fashion Heritage practices. The results allow a qualitatively superior identification of, and response to, potential user needs.


See you at the Rijksmuseum!


Página:
1